GENOMEPOP2 HAS BEEN AVAILABLE SINCE 2008 AND NOW IS NO LONGER MAINTAINED.
PLEASE NOTE THAT SOME RECENT UPDATES DO NOT WORK UNDER SOME OLDER FEATURES.
&nbsp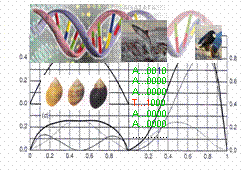 GENOMEPOP2
GenomePop2 (GP2) is an specialization of the program GenomePop just to manage SNPs under more flexible and useful settings. If you need models with more than 2 alleles please use the GenomePop program version.

GP2 current version is 2.7.7.1 released on September, 2017. For requirements and/or questions please email to genomepop2@gmail.com. GP2 allows the forward simulation of sequences of biallelic positions. As in the previous version, a number of evolutionary and demographic settings are allowed. Several populations under any migration model can be implemented. Each population p consists of a number Np of individuals. Each individual is represented by one (haploid) or two (diploid) chromosomes with constant or variable (hotspots) recombination between binary sites. The fitness model is multiplicative with each derived allele having a multiplicate efect of (1-s*h-E) onto the global fitness value. By default E=0 and h=0.5 in diploids but 1 in homozygotes or in haploids. Selective nucleotide sites can be defined undergoing directional selection, positive or negative, in different populations. In addition, bottlenecks and/or population expansion scenarios can be settled by the user during a desired number of generations. Several runs can be executed and a sample of user-defined size is obtained for each run and population. See here some of the input possibilities and its meaning.

The GenomePop2 output will be in Phylip, GenePop 4.0 or ms-like program formats. The ms format is the default one and in addition to the sampled individuals a file with the corresponding sampled gametes (one haplotype per sampled individual) are also produced. See some examples: Example0-0 Example0-1 Example0-2 Example0-3 Example0-4 Example0-5. The name of any input file must be changed to be GP2Input.txt.

Some of the new functions in GenomePop2 since the original GenomePop version are:
Bottlenecks and population expansion scenarios (CEDS, see HowTo 10).
How to set the original population sequence (HowTo 11).
Neutral mutation drift equilibrium (HowTo 12).
Simulated neutral equilibrium (HowTo 13).
Predefining mutations at a given frequency (HowTo 14).
Predefining mutations at a given frequency after an equilibrium (HowTo 15).
Defining specific positions under positive or negative selection in a given population (HowTo 5).
New output formats ms-like or Phylip (HowTo 16).
Speciation: Splitting of populations to get a desired divergence between isolated populations (HowTo 17).
Selective regions: Different selective regions through the genome can be defined (HowTo 18).
Serial samplings: (HowTo 19).
&nbsp
&nbsp